Separ Fuel Filter
To order, please call 801-233-9185.
---
The Separ Filter is designed to separate water and filter particulate matter from the fuel by using a multistage centrifugal process. This filter serves as a key component of the Filtagreen® Proactive Maintenance Solution for diesel-powered equipment.

Separ Filter bodies are manufactured from high quality, non-corroding, aluminum alloy castings, heavy polycarbonate or metal bowls, and stainless steel hardware. Separ Filters are designed to function under extreme environmental conditions.
DEMAND FOR HIGH-QUALITY FUEL
Low-quality fuel has inferior combustion qualities and produces high emissions. Negative results also include increased fuel consumption, lower power output, and increased fuel system failure. These conditions negatively affect business operations and have a detrimental effect on the environment.
Diesel engines today require high-quality fuel that is not always readily available. Most of the current fuel on the market contains water and particulate contamination. This damages fuel pumps and injectors and reduces the reliability and longevity of your engine.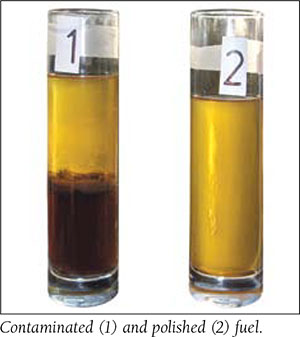 New-generation diesel engines require a higher standard of maintenance. Higher tolerances and electronic controls therefore require a high-quality fuel that is free from water and particulate matter. Installing a fuel filter that properly filters the fuel is essential.
A Separ Filter properly installed in your fuel system removes up to 99.9% of unwanted water and filters particulate contamination down to 10 microns. With a five-stage filtration system and one of the lowest restriction pressures on the market, the problems mentioned above are solved.
A Separ Filter combines the benefits of centrifugal motion and the ability to back-flush the filter element, thus extending its life. By delivering cleaner fuel for much longer, the requirements of new-generation diesel engines are met.
100% Water Removal
Multistage Centrifugal Design
Removes Particulate in Fuel
Compact Design
High Efficiency
Low Flow Restriction
Long Life of Filter Components
Easy Installation
Simple Maintenance
EASY INSTALLATION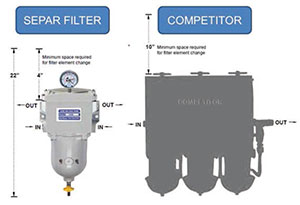 Innovative design, reduced overall size, easy installation, and one of the lowest pressure drops (Delta 'P') on the market, make the Separ Filter the only logical choice for your diesel-powered equipment. The Separ Filter is more compact than other filters on the market, allowing for faster and simpler installation.
HOW SEPAR FILTERS WORK
The Separ Filter has a unique 5-stage fuel-conditioning process.
1st Stage
After entering the inlet(s), the first vein system spins the diesel fuel in a circular motion.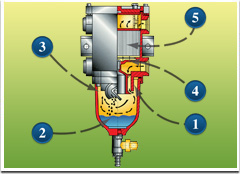 2nd Stage
Still in circular motion, fuel reaches the bowl section where water and heavier particulates (down to 10 microns in size) are separated, eventually settling on the
bottom of the bowl.
3rd Stage
In this stage, a 2nd vein system forces the fuel to spin in the opposite direction, separating smaller water droplets and finer particles.
4th Stage
Just below the element, the flow area of the filter increases significantly. This reduces the fuel flow rate, allowing more contaminants to drop out and settle into the bowl.
5th Stage
Final filtration of the remaining particulates in the fuel is accomplished when the fuel passes through the replaceable filter element. The filter elements are produced from a special filter media and are available in pore sizes of 10, 30, and 60 microns.
VARIOUS FLOW RATES FOR ALL APPLICATIONS
Separ Filters are available with various flow rates that cover applications from 1 to 70 gal/min, thereby providing filtration for engines ranging from 5 to 10,000 kW.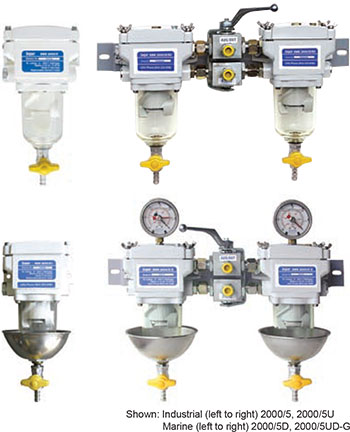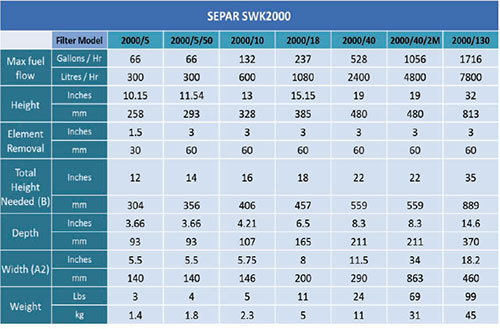 VARIOUS ELEMENT SIZES

The filter elements are available in 10, 30, and 60 micron cartridges for various filtration applications.
BACK-FLUSHING ABILITY
Unlike other filters on the market, the Separ Filter configuration allows back-flushing of the filter element without its removal. This is accomplished by opening the bleed valve on top of the filter and then the drain valve. This allows the fuel above the filter element to flow backwards through the element, thereby dislodging debris.
A WIDE RANGE OF APPLICATIONS
Separ Filters are available for a wide range of engine sizes, including automotive vehicles, construction equipment, marine applications, stationary generators, and mining equipment. Some Separ Filters are available with a fuel- heating system add-on that is capable of heating fuel, a necessity when working in cold environments.