FILTAMAX PreKleen
To order, please call 801-233-9185.
---
We were the original Filtakleen distributors throughout the world. We can supply you with all of your Filtakleen product needs.

---
Filtamax PreKleen is a centrifugal air pre- cleaner designed to pre-clean the intake air of your machinery, thus extending your air filter life. Filtamax PreKleen is made of heavy-duty stainless steel, and a non-rusting aluminum. It comes with a lifetime warranty, providing durable and long-lasting protection for your engines.
Filtamax PreKleen comes in different sizes that can handle a wide range of air intake flow rates (50 to 1600 C.F.M.). FiltamaxTM PreKleen is also lightweight and the smallest stainless steel pre-filter solution on the market, allowing it to be fitted to a wide range of equipment.
CLEANER AIR FOR YOUR ENGINE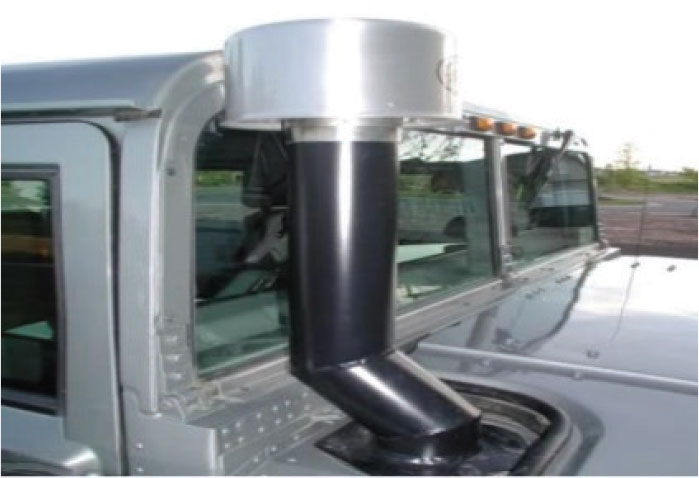 Without Filtamax PreKleen, dust and contaminants from the air are captured in your equipment's air filter. In a dirty environment, these particles fill the air filter to capacity in a short amount of time, thereby requiring air filter replacement in order for your equipment to perform properly.
The installation of the Filtamax PreKleen helps to resolve this problem. Once the Filtamax PreKleen is installed, it removes contaminants from the air intake before they make it to the air filter. This extends the filter life by removing most particles that cause air intake resistance when caught in the filter. With less intake resistance, the engine operates more efficiently, thus using less fuel.
Less dirt in the filter and fewer filter changes means less chance for dirt to enter the engine.
Less restriction and cleaner air allows the engine to work more efficiently, leading to less wear and tear on the engine. When the engine lasts longer, your bottom-line profit is increased.
HOW FILTAMAX PREKLEEN WORKS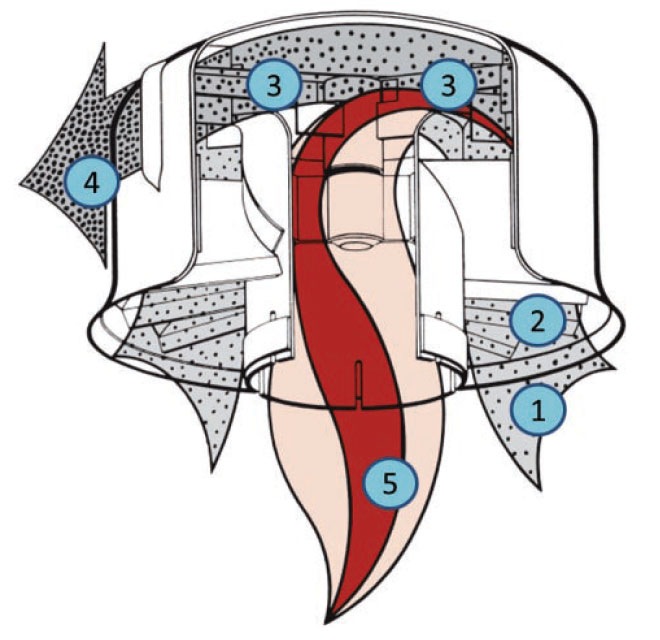 Filtamax PreKleen is a pre-filter innovation utilizing a centrifugal airflow design to remove dirt and dust particles from the air intake stream prior to reaching the original OEM air filter. This equates to less filter changes, less equipment downtime, longer engine life, and better fuel efficiency.
Phase 1 Dirty air enters the FiltamaxTM PreKleen secured to your equipment's air intake.
Phase 2 Specially-designed vanes, curved and angled to precisely direct airflow, move the dirty air toward the stainless steel impeller.
Phase 3 The dynamically balanced, one-piece impeller (PreKleen's only moving part) creates a tornado inside of the housing.
Phase 4 The centrifugal force of the tornado expels the heavier-than-air dirt particles, chaff, dust, snow, rain, and etc. out of the discharge louver.
Phase 5 Cleaned air enters the engine intake pipe, and the filter element has only the very light particles to remove.
FILTAMAX PREKLEEN FEATURES
• Curved and angled vanes that direct the airflow and maximize cleaning efficiency.
• Tough, non-rusting, stainless steel and aluminum construction.
• Available in eight different sizes to cover your clean air requirements, from 50 to 1600 C.F.M.
• Totally maintenance-free operation.
• Easy Installation at any angle, even inverted, in just minutes.
• Compatible with all air filter systems.
• Lightweight/low profile design.
• Full lifetime warranty on the entire Filtamax PreKleen unit.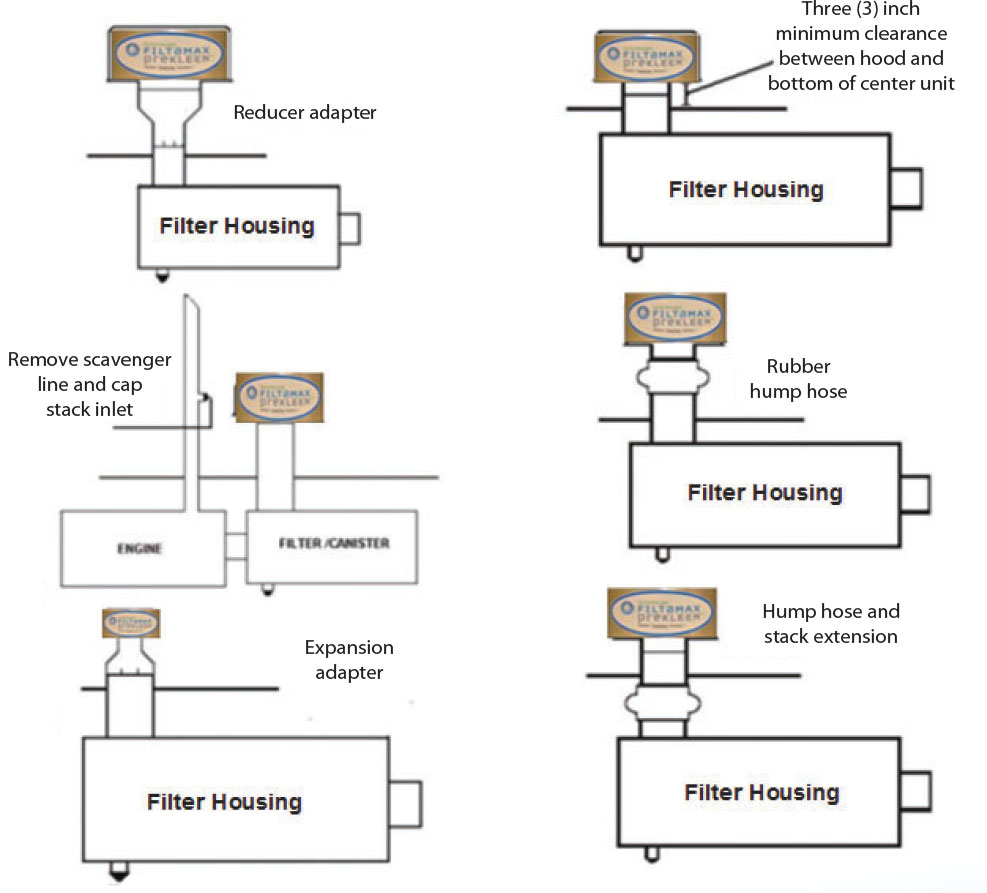 FILTAMAX PREKLEEN BENEFITS
High efficiency, low air restriction, maintenance free, and simple installation.
Increased engine life.
Extended air filter life and reduced operating costs.
SPECIFICATIONS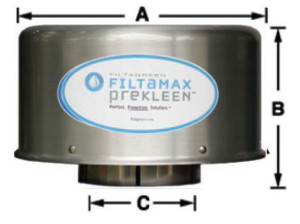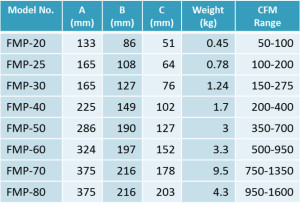 For 4-cycle engines, the C.F.M can be determined by using the formula below:

C.I.D. – Cubic Inch Displacement
R.P.M. – Revolutions Per Minute
Vol. Eff. – Volumetric Efficiency
C.I.D. – Cubic Inch Displacement
R.P.M. – Revolutions Per Minute
Vol. Eff. – Volumetric Efficiency
VOLUMETRIC EFFICIENCY:
DIESEL
Diesel Naturally Aspirated…………….. = .85
Turbocharged………………………….. = 1.60
Turbocharged – Aftercooled…………. = 1.85
Turbo Intercooled………………………..= 1.95
GASOLINE
Up to 2500 r.p.m…………………………… =.80
2500 to 3000 r.p.m………………………… =.75
3000 to 4000 r.p.m………………………… =.70
To convert Metric Displacements to Cubic Inch Displacement (C.I.D.) for use in the formulas, use the following conversion factors: Displacement in Cubic Centimeters x 0.06102= C.I.D.
Displacement in Liters x 61.02 = C.I.D.
Note: For engines equipped with twin air intake pipes, divide the engine C.F.M. by two and apply the proper FiltamaxTM Prekleen to each of the pipes.